A Farewell to Dean Spinner
A Fond Goodbye to a Dean who will be Sorely Missed for his Energy, Ethics and Leadership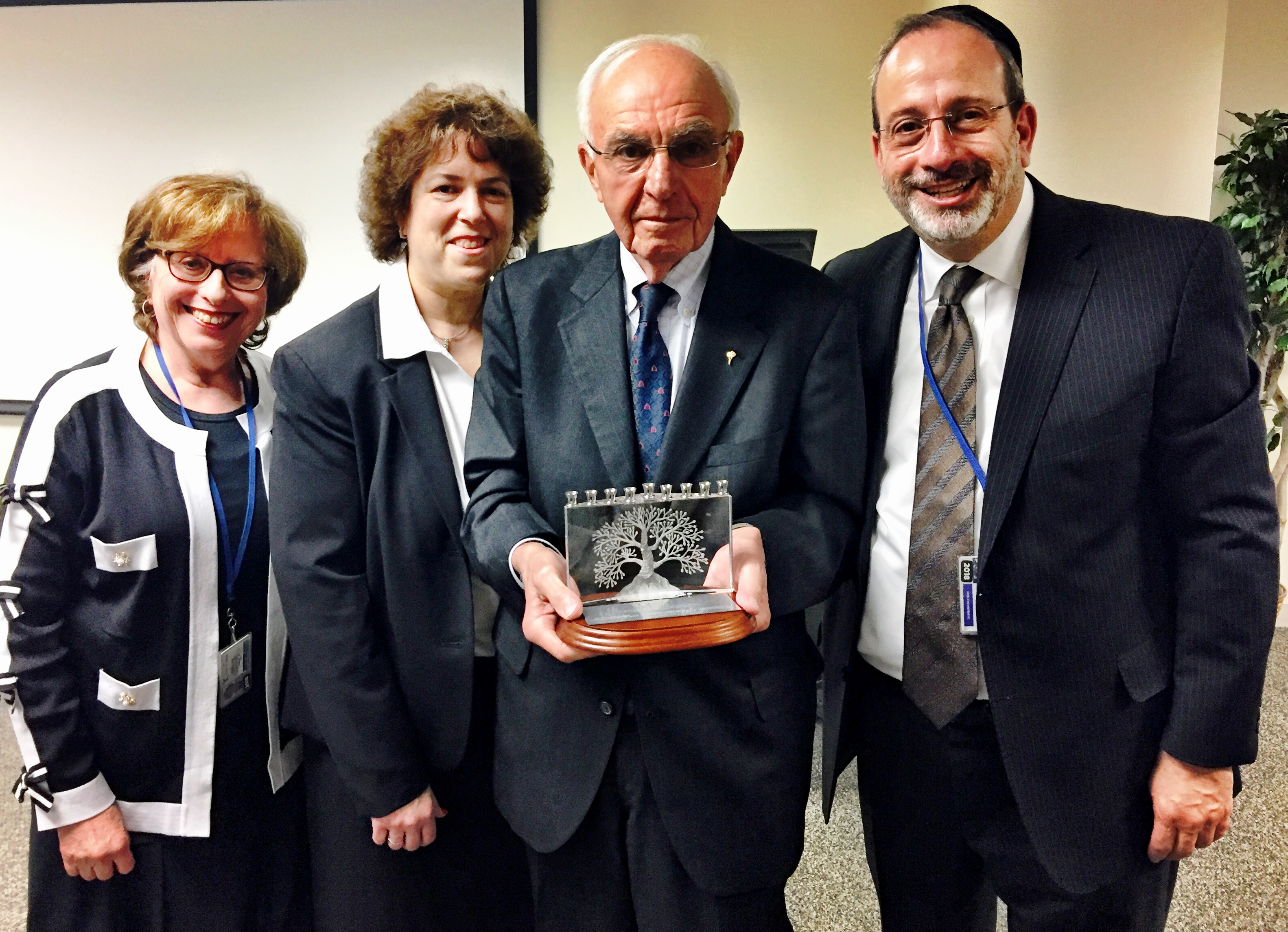 Dr. Arnold Spinner, presented with a gift on the occasion of his retirement. L-R: Nadja Graff, Ph.D., Vice President, Division of Graduate Studies, Patty Salkin, JD, Provost, Graduate & Professional Divisions, Dean Arnold Spinner, and Rabbi Moshe Krupka, Executive Vice President
Interim Dean of the Touro College Graduate School of Education, Dr. Arnold Spinner has best been known for his unwavering dedication to quality – a core value at the center of his five-decade academic career, first at NYU and more recently at Touro. Consistently, he has reinforced to GSE leaders, faculty, staff teams, and students the GSE's mission to prepare graduate degree and certificate candidates to be highly effective teachers, counselors, and school leaders in service to their P-12 students.
Leadership
With his eye on that prize, Dean Spinner has broadly strengthened GSE's partnerships with P-12 schools and districts and implemented major improvements in GSE's recruitment, advising, and alumni network systems. Internally, he has spearheaded a major restructuring of GSE's teacher preparation programs. Complementing both sets of initiatives, he has pushed for a more vigorous internal Quality Assurance System to position the GSE to comply with new standards of its accrediting agency – a critical legacy for the future success of the GSE and its graduates.
Research
Moreover, realizing how important research is to both instruction and to personal enrichment and career advancement, Dean Spinner has encouraged GSE faculty research and development, both individually and collectively, through the Lander Center for Educational Research. His advocacy in this regard is consistent not only with Dr. Kadish's vision for Touro College, but it also aligns with key strategic plans implemented by the GSE's late Dean, Dr. LaMar Miller, who founded the Lander Center. In his previous role as Associate Dean for Academic Affairs, Dr. Spinner served as Interim Coordinator of the Office of Sponsored Programs, and after assuming the Deanship, he has continued to serve Touro College as the Human Subjects Administrator for the Institutional Review Board that oversees social science, behavioral, and educational research with human subjects.
Always Available
For Dean Spinner, being available and accessible is fundamental to being a leader, and he has always striven to be there when students, staff and faculty members sought advice and assistance with solving problems. GSE community members share a particular appreciation for his many quiet acts of kindness, including hospital visits and words of timely encouragement. His steadfast commitment to Touro College, the Graduate School of Education, and to the overall field of education have been exemplary. As he prepares for his retirement this summer, Dean Spinner is taking steps to ensure that the GSE is strong and well-positioned when he hands over the leadership reins to his successor. Dean Spinner's energy, ethics, and personality will be sorely missed.