Remembering Dr. LaMar P. Miller
Former Dean of Touro's Graduate School of Education and Founding Director of Touro's Lander Center for Educational Research Dies at 92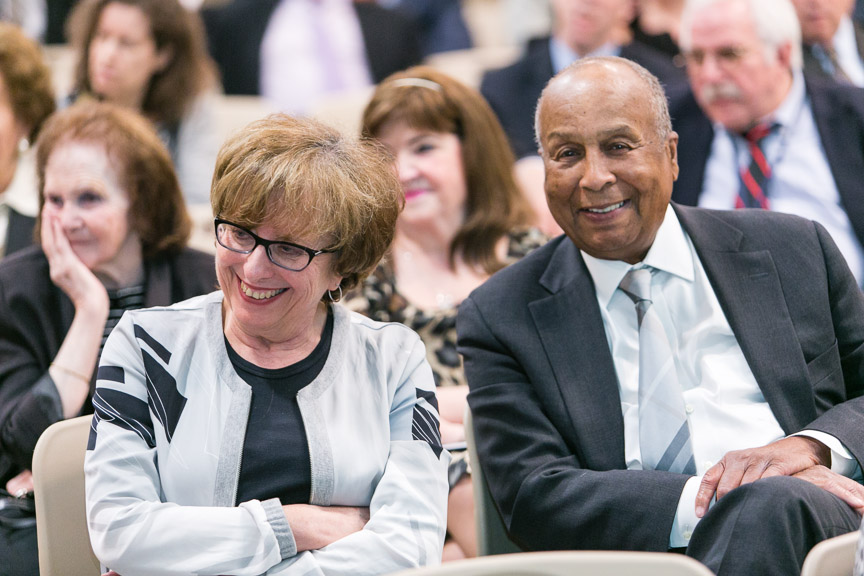 Dr. LaMar Miller with Dr. Nadja Graff, vice president of Touro's Graduate Division.
Dr. LaMar P. Miller, former dean of Touro's Graduate School of Education, founding director of Touro's Lander Center for Educational Research, and a renowned expert in the fields of urban education and equity issues died on Tuesday, October 17 at the age of 92.
Dr. Alan Kadish, President of Touro College and University System, called Dr. Miller an "integral part of Touro's Graduate School of Education."
"Dr. Miller's life's work of ensuring equality in education resonated with all of us," stated Dr. Kadish. "While we are deeply saddened by his passing, we take comfort in knowing that his achievements and his legacy of educational equality will live on."
"It was a personal honor to work closely with Dr. LaMar Miller, a distinguished scholar and academician with decades of accomplishments in the field of education," stated Dr. Nadja Graff, vice president of Touro's Graduate Division. "He graced the halls of Touro College for years with his formidable intelligence and vision for the Graduate School of Education, and we were a better institution for it. When Dr. Miller spoke, in his measured and deliberate way, one stopped to listen because his words were full of wisdom and truth. I will always remember his dignified presence and gentlemanly bearing. The world has lost a great human being."
Dr. Arnold Spinner, Interim Dean of Touro's Graduate School of Education, stated that he and Dr. Miller were best friends for almost 50 years—ever since they first met at NYU in the 1970s. "The world will be a sadder place without him," said Dr. Spinner. "He brought great knowledge and enthusiasm to everything he did and devoted his life to making the world a better place. He cared for people and everyone who met him, loved him. I'm going to miss him terribly."
Dr. Miller was born in Ypsilanti, Michigan, attended Eastern Michigan University, and received his Ph.D. in education from the University of Michigan. As an undergraduate student, he ran track and played football. He raced Olympic Gold medalist Jesse Owens when the athlete was barnstorming around the country. (He lost, but loved telling that story and dozens of others.) He served in the US Army during World War II and was stationed in Okinawa while the army prepared for a possible invasion of mainland Japan.
Throughout his long career, Dr. Miller was a prolific writer as well as a nationally recognized leader in the fight for equity and educational opportunities for all students. After teaching in an Ypsilanti high school and serving as faculty at Eastern Michigan University, he joined the faculty at NYU in 1969. Shortly thereafter, he founded, and for over 30 years served as the Director of, NYU's Metropolitan Center for Research on Equity and the Transformation of Schools. "Born of the dream of achieving equity in public education" the Metro Center's website states that "Miller's vision [for the Center] was to examine and find solutions for the problems facing the country's public schools, especially as they affect low-income and minority children." By the time Dr. Miller retired from NYU in 2006, he had grown and guided the Metro Center into being one of the premiere research centers in the nation's academic community.
Dr. Miller was the creator and leader of four innovative decennial conferences called Brown Vs. Board of Education +. These conferences examined the long-term effects of school segregation as well as the progress of integration efforts over the decades. He was also the principal investigator of many prestigious federal, state, city, and privately-funded grants, including Teacher Corps, Desegregation Assistance Center, Equity Center, Upward Bound, and bilingual projects.
When Dr. Miller joined Touro in 2006, the college's founder, Dr. Bernard Lander, asked him to develop the institution's first research center and to then serve as its founding director. Thus was born Touro's Lander Center for Educational Research. Soon after its formation, the Lander Center received its first grant, a $900,000 three-year U.S. Department of Education award for a Language Development in the Context of the Disciplines project. That project was run in collaboration with the NYCDOE. Shortly after that, the Lander Center received a three-year USDE $1.8 million award to operate one of the ten national Equity Assistance Centers. That grant was then followed by another five-year Equity Assistance Center award for an additional $3 million, plus several other awards from state and private entities.
During Dr. Miller's tenure as GSE Dean, GSE expanded its degree offerings to include new educational specialty areas, including MS degrees in both mathematics and biology education. The school was ranked first in the state for graduating minority students with master's degrees in education by the magazine Diverse: Issues in Higher Education.
"We are very proud of our record in providing a superior education, and our success in creating a diverse institution that prepares our future teachers and educational leaders," Dr. Miller said prior to retiring from Touro in 2015.
Throughout his long life, Dr. Miller traveled extensively throughout the world, and was known for being especially eager to go anywhere for a good game of golf.
Miller is survived by his wife of 40 years, Deborah Fox Miller, three children, four grandchildren and eight great-grandchildren.