"It Made the Smallest Thing Matter More"
A Seasoned Educator Reflects on a Pandemic's Effect on Her Teaching
June 09, 2022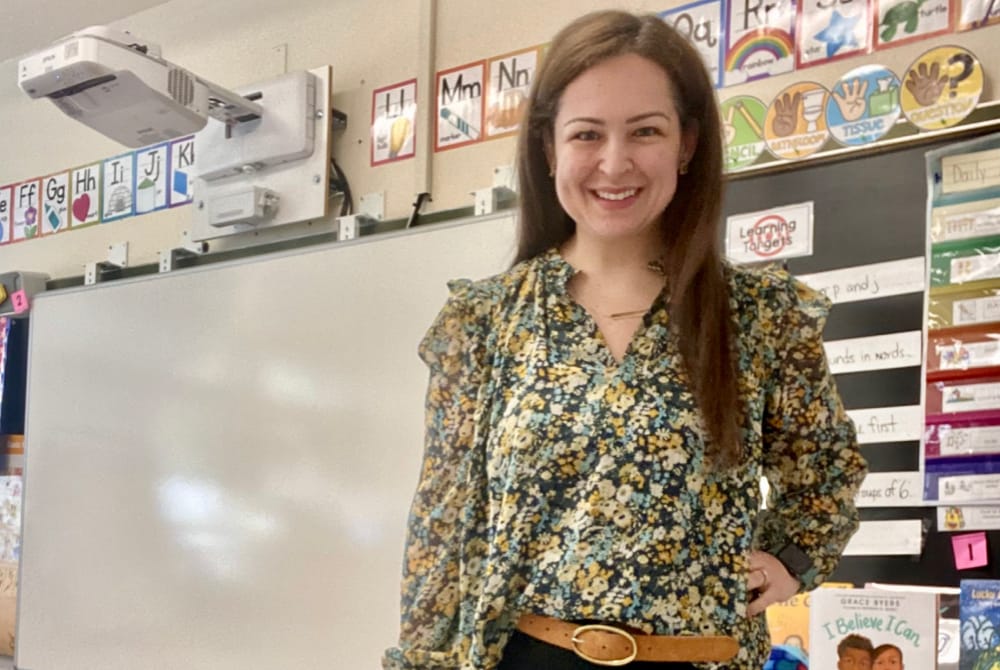 Sarah Formont
When Sarah Formont began her online master's program at Touro's Graduate School of Education little did she know that soon all of the classes she taught would be online as well.
"I began the program in January 2020, right before the pandemic," recalled Formont, formally a teacher in New York City, who is currently a kindergarten teacher at Old Country Road School in Hicksville, NY. "I chose to do the online program since it made sense for me with my commute. Traveling between my home in Oceanside, to my former school in East Harlem, time was a major priority. When the pandemic hit and everything went online and remote, the program became really beneficial."
"It was a different kind of experience because everyone was working and teaching remotely," continued Formont, who graduated in May 2021. "It shined a different light on how we reach students and communicate with families. Being part of a program where we were also learning online at the same time gave me a different perspective."
A Love of Teaching
Formont, who originally studied restaurant management, decided to become a teacher after running a food program in an elementary school. "I really loved working with kids," she recalled. "It just brought back to me how much I enjoyed being a camp counselor and a student advisor in college." She returned for an undergraduate degree and began her first job as a Pre-K teacher at PS 83, an elementary school in East Harlem. As the only Universal Pre-K class in the school, Formont was learning about the program alongside her students. Later when the UPK program expanded to include 3-K, Formont moved into the role in a new classroom.
"It was really a privilege," reflected Formont, about setting up and implementing the new curriculum and her work in general. "I love teaching early childhood. It's a child's first experience being away from their caregiver and while it might sound cheesy, there's so much wonder. Kids are learning for the first time in a school setting—they're having all these lightbulb moments and it's such a joy to witness those things and be able to support these kids when they're learning. It's an incredible feeling."
Her own two daughters were part of the inspiration for her to attain a graduate degree.
"Aside from it being necessary in the natural progression for our professional license, I knew I needed to complete my master's for myself and for my kids, to show them that an education in something you love can be so valuable," said Formont. "My parents are both immigrants, and have given me so much throughout my life, and even more so now in their support for my family, and their love for my kids. One of the most important things that I have learned from them is that you should spend your days doing something you enjoy, because you'll be doing it for a lifetime if you're lucky. I wanted to be able to honor them in my work and my career and earning my master's through the hard work and support I received from my loved ones felt like an achievement for all of us."
She chose to pursue a master's in early childhood and special education.
"Early childhood and special education go hand-in-hand for me," explained Formont. "Kids are coming into the classroom and there are so many needs and learning styles that might not be addressed prior to that point."
Learning Online and Teaching Online
Filled with teachers like herself, Formont found GSE classes to be a wellspring of support during a difficult time.
"Everyone was going through something, and the classes made people feel more connected," said Formont. "I know people were hesitant about online programs since you're not getting the brick-and-mortar experience of a classroom and you don't build the same sense of community, but because we were doing these online classes together during the pandemic, we really engaged with each other. We shared ideas and we formed really strong connections."
Formont was especially fond of GSE's Dr. Susan Shapiro.
"I really enjoyed the two classes I took with her," said Formont. "As a professor and as a person she understood us. Some professors talk and don't consider their students' experiences as valid, but Dr. Shapiro wasn't like that. She wanted to hear about us, our experiences, and our thoughts. She encouraged us to communicate with each other and share our ideas and we weren't brushed off. I think that was really important since we're not undergraduates anymore, we've gone through schooling and had real-life experiences. It was a class I enjoyed being a part of. We're still in touch and that says what kind of professor she is."
A Bittersweet Goodbye for a New Opportunity
After teaching in East Harlem for almost a decade, Formont bid a bittersweet goodbye to her old school and accepted a teaching position in the Hicksville school district this year, which is closer to her home on Long Island. "It was a tough decision to leave my school" admitted Formont. "I loved my kids, their families, and my coworkers. I loved having my kids come back to my classroom years later and seeing how they have grown. It was hard to start over, but I'm very lucky to have found a new place in a wonderful school. It eased my transition back into the classroom."
Her experience during the pandemic has had a lasting impact on her teaching.
"In the beginning of the pandemic, we thought it would last a couple of weeks, but it kept on going," Formont emphasized. "It taught me about things that matter. I really took more of an interest in my students—we were able to see into their homes, our class was online. We spent a lot of time checking in with their families and asking: how can I help you from here? How can I support you? I always cared about my families, but this was a whole other level."
"I saw into their homes, and they saw into mine," concluded Formont. "I was juggling being a parent with a newborn and a toddler, while trying to still be an engaging teacher. I could relate to them, in more ways than before. When the initial school year ended, many families opted to continue to be remote for the next school year and I really had to think about how I could reach them while they were home. This time it would not be for a few weeks, but for the entire school year. It changed the way I saw teaching and made me aware of the things we took for granted. It meant more when I was able to connect with a student, despite it being through a computer screen; I carry that with me. Now it means more to be able to see kids in-person and connect with them and be here for them. It made the smallest things matter more."