Never Give Up
One Principal Gives Last-Chance Students a Real Chance at Success
October 25, 2022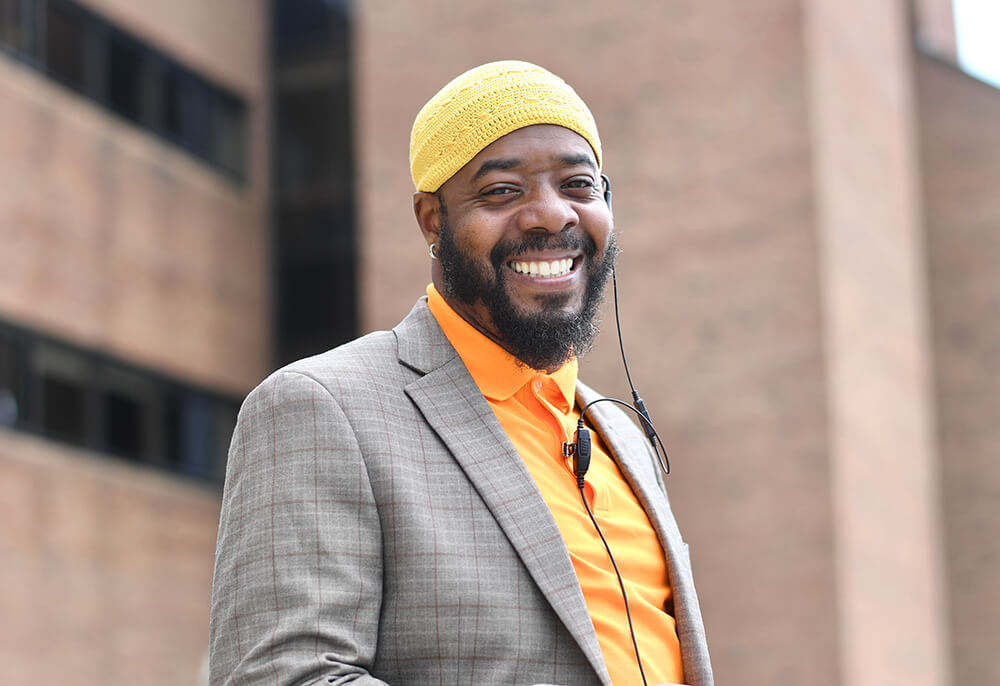 Dr. Syene Cooper
For two decades, Syene Cooper has changed the lives of hundreds of children and teenagers who have been desperate for someone who believed in them when everyone else had given up on them — as they had on themselves.
An overachiever from childhood, Cooper, now 41, proudly points to his earliest honor as valedictorian of his kindergarten class. "I don't finish any school without honors," says Cooper, who was known for having many internships at one time, completing his studies early, making Dean's Lists, earning two master's degrees and a Ph.D., all while working full time.
What sounds like boastful self-regard is really profound idealism melded tightly to nuts-and-bolts pragmatism. "I have to believe in myself first," says Cooper. "Or how do I convince my students that I believe in them, that they, too, must develop confidence, work hard and earn their success in whatever endeavor they choose?"
Much of Cooper's two-decade career so far has centered around understanding and aiding the most underserved students in New York City and the state. They are society's poor, sometimes homeless and forgotten kids, those who, Cooper explains, were headed straight into the streets or behind bars, the ones schools had given up on entirely.
He has been a counselor, a teacher, an administrator, an elementary and high school principal, a specialist in early childhood education and much more. His focus and successes have been as a turnaround specialist, one who assesses what's right and what's not for individual students, creates programs to fill gaps and helps students, whether age six or 16, believe they have a future worth working toward.
"I'm called in to fix it and make it right, to come up with action plans," says Cooper, who not only earned a Master's in School Leadership from Touro's Graduate School of Education in 2005, but also teaches at the school as an adjunct professor.
Today, Cooper is one of five principals at Albany High School. The school of 2,700 students is divided into five sections; Cooper runs the Leadership Academy, consisting of some 600 students, many of whom have social, emotional and educational challenges. He is designing teaching and learning frameworks, as well as coaching and support networks for teachers, counselors, psychologists and other school professionals. "I'm supporting the superintendent's mission and drive for student equity and a sense that these kids belong," he explains. "In my Leadership Academy, I'm getting to know every student and I'm trying to help them understand their purpose."
A key component is helping each student discover a career path, complete with a road map on how to achieve the goal. "Many of our students are from lower socioeconomic communities, so if they want to be a carpenter, nursing assistant, in the food industry, a welder, a farmer or go to college, it's all relevant, if it means they can support themselves and their future families. I believe in them, and I let them know that. My mantra is "purpose over title."
Turns out the husband and father of two puts weight behind those words. Years ago, when he worked for Job Corps in Brooklyn, Cooper took one student into his home who was homeless and living on the streets, while closely monitoring and mentoring a second student who was not much better off. Today, one is a successful entrepreneur, the other has earned both a bachelor's and a master's degree.
"These two dudes will always be like my little brothers," Cooper says. "I hear from them all the time, and from others, too, who tell me, 'you don't know how much you changed my life.' To help transform a life? There's nothing more gratifying."