Perseverance Pays Off
Graduate Tina Williams Shares Her Inspiring Story During 2021 Commencement
July 01, 2021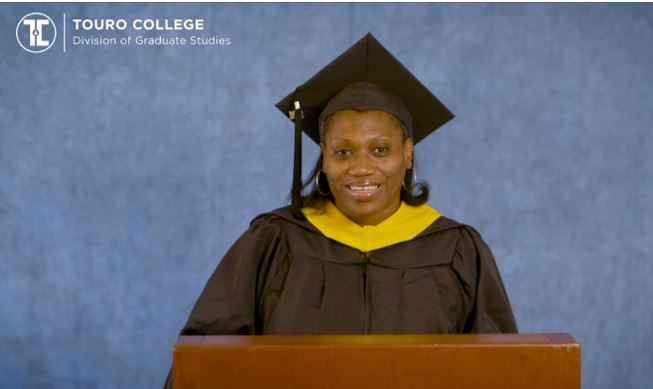 Tina Williams
Tina Williams (g'21) was the featured speaker for the commencement ceremony held June 17, 2021. A strong advocate for children, Williams was selected by the Touro GSE faculty for special recognition because she embodies its mission and commitment to educational equity. Her inspiring life story demonstrates her unwavering dedication to teach children with disabilities. "I always tell my students to never give up no matter how much they have to struggle. There is always something to learn from each chapter in our lives," said Williams during her commencement speech. "We all need to keep pushing."
Williams had to push through many trials in her life. She grew up in a low-income, single-parent household in New York City. After her mother enrolled her in dance lessons, Williams discovered her passion for teaching at age 14. Talented in dance and music, Williams was admitted into the Fiorello H. LaGuardia High School of Music & Art and Performing Arts, where she received classical voice training in seven different languages. She went on to study dance at Marymount Manhattan College, where she minored in education. Later in life, Williams opened a dance studio, where she taught for 15 years.
Her pathway to teaching pivoted when her twin boys were diagnosed with autism. She transitioned from teaching dance to pursuing a career in special education. In 2012, she enrolled in an online university to pursue a master's degree and state certification in education. With one semester away from finishing her studies, she discovered the online university did not offer a New York State-approved teaching certification program. Severely disappointed, Williams, determined to achieve her education career goal, enrolled in the Graduate School of Education at Touro College in 2015. But in the months to follow, Williams experienced great hardships.
Within the first year of becoming a student at Touro, Williams lost her mother and discovered her eldest son had a brain tumor. She became so overwhelmed with being his caretaker that she left school. Her son passed and she found herself in a place of despair. But she determined again to achieve an education career so she pursued re-enrollment into Touro's program. After four years working to overcome barriers, Williams was readmitted into the Touro GSE program and successfully completed her studies within two years. "There were so many things that kept getting in the way and I could have totally just stopped. I could have given up, which I wanted to do," said Williams. "I could have walked away and said, this is just not going to happen for me, but I love children. I love teaching."
Williams has taught at the Central Queens Academy for nearly six years. She graduated from Touro College with a Master of Science degree in special education (Grades 7-12). She also served as a student researcher for Touro's $1.4 million grant funded by the U.S. Department of Education to support young children's mathematics and computational skills. Her inspiring story is a true testament that perseverance pays off.