Stronger Than Hate
Fighting Acts of Hate with Acts of Kindness
June 19, 2019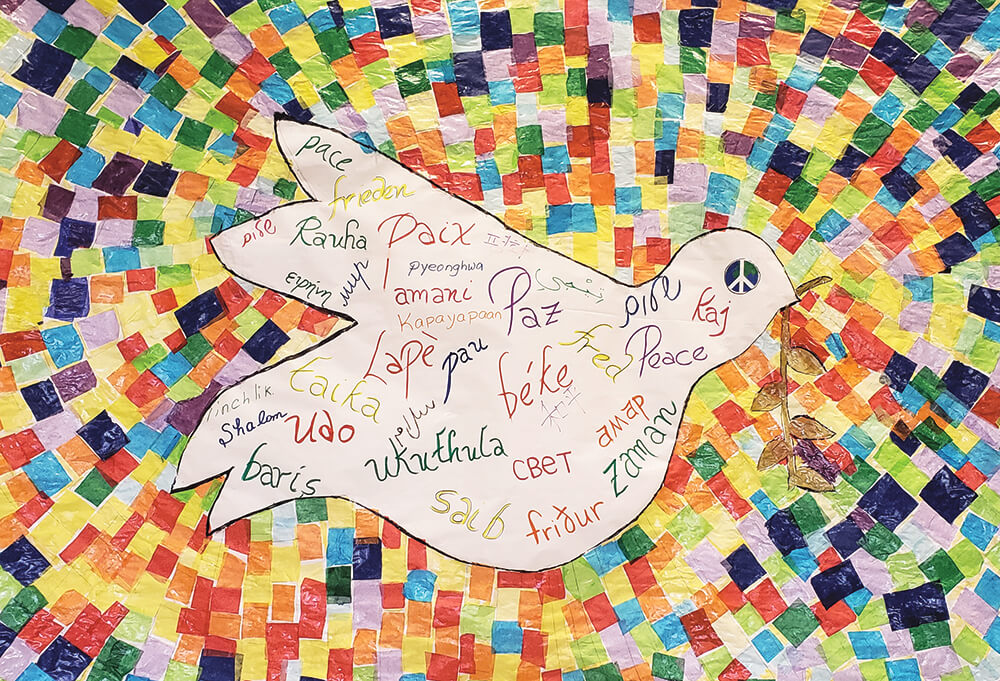 Completed art project, centered around peace, created by Touro staff, faculty and students.
Following the mass shooting at the Tree of Life Temple in Pittsburgh last October, Dr. Shoshanah Findling knew she had to do something. "I wanted to find a way to respond that would help people to heal," she recalls. Dr. Findling, who serves as Site Director of the Touro Graduate School of Education (GSE)/Special Education Program and who is also a self-trained artist, often turns to art during such times.
A PRAYER FOR PEACE
"A prayer for peace is one of the 19 blessings said every day in the Jewish Amidah," explains Dr. Findling. "I began to envision an interactive art project, centered around peace, in which we could involve the entire school." For Dr. Findling, incorporating art into her teaching and her role as an administrator at Touro has always been a guiding principle. Now there was an immediate and compelling need that her skill and knowledge could address.
A SCHOOL-WIDE EFFORT
Using the symbol of a white dove as the dominant design element, Dr. Findling set out to create, with the help of students and Touro staff, an oversized collage painting. The white dove at its center was to be surrounded by colorful mosaics made of individually hand-cut, small squares of colored tissue paper. "It is my belief that we must fight acts of hate with acts of kindness," explains Professor Findling. Staff, faculty and students from the GSE Brooklyn and Staten Island campuses worked together to create the collage. Faculty helped logistically by allowing students time off from class to cut out the mosaics and glue them to the piece of art. School staff, faculty and administration all found time to cut out squares and glue. In addition, the giant white dove was then inscribed with the word "peace" in 33 different languages by members of the school community, representing all the languages spoken in the hallways of GSE. Finally, the school staff assisted with the framing and final installation. "Everyone had a chance to contribute and feel part of this project and feel creative," recalls Dr. Findling.
The unveiling took place on January 15th, Martin Luther King's actual birthday. This date was selected to both commemorate and underscore Dr. King's universal message of peace and justice. The artwork now hangs inside the GSE Brooklyn campus entrance and is the first image one sees when visiting the school.
ART AS A TEACHING TOOL
"In education we talk a lot about 'the curriculum.' There is also the 'hidden curriculum' which must be addressed," explains Dr. Findling. "School is supposed to prepare students to be good citizens and productive members of society. The peace project allowed us to start a conversation about such things as democracy, respecting different cultures, religions and so on. Also, by beginning the project on Veterans Day, hanging the completed symbol of peace on Martin Luther King's birthday, and seeing and hearing the many different ways to say 'peace' in other languages, allowed students to both learn and feel a sense of belonging at the same time."
For Dr. Findling, such art projects are ways for teachers to help develop their skills in a hands-on and uniquely engaging way. "Many of the GSE students participating in the peace collage said that they were going to replicate it in their own classrooms," recalls Dr. Findling. "This project could work extremely well as a social studies, math or language arts lesson. For social studies, students could be encouraged to talk about the concept of peace," she continues. "For language arts, vocabulary could be developed around words for peace. For math, measuring the paper and small squares, counting on the various colors or estimating the number of squares on the finished collage could all build and reinforce math learning. The possibilities are only limited to a teacher's imagination."
TEACHERS REACT
For Carl Santa Maria, the Principal of lower school PS 143 in Brooklyn, the peace project was a remarkable concept. "I really enjoyed the engagement it brought," he says. "I will use this idea at my school in some way."
For student Orit Mor, the project had particular meaning. "I am graduating this year with a degree in Special Education and I'm an art teacher at The International Charter School in Brooklyn," says Orit. "I worked closely with Professor Findling on this project, helping with the cutting, pasting and organizing of the tissue squares and collage." For Orit, it was gratifying to see how this project helped to bring the community together. "It was very impactful. People would come in for class, stop at the room where the mosaics were, create their mosaic and add it to the piece. Over several weeks, all the spaces were filled in with a beautiful design of colors. Other students wrote the word 'peace,' in their native languages, which was another way of uniting all of us." Following her graduation, Orit plans to incorporate all school art projects into her teaching. "This kind of artistic activity can unite a school community around an issue, raise awareness or help them to heal together."