The Magic of Books
Touro Graduate School of Education Celebrates World Book Day with Read-Alouds and Book Donations
May 05, 2021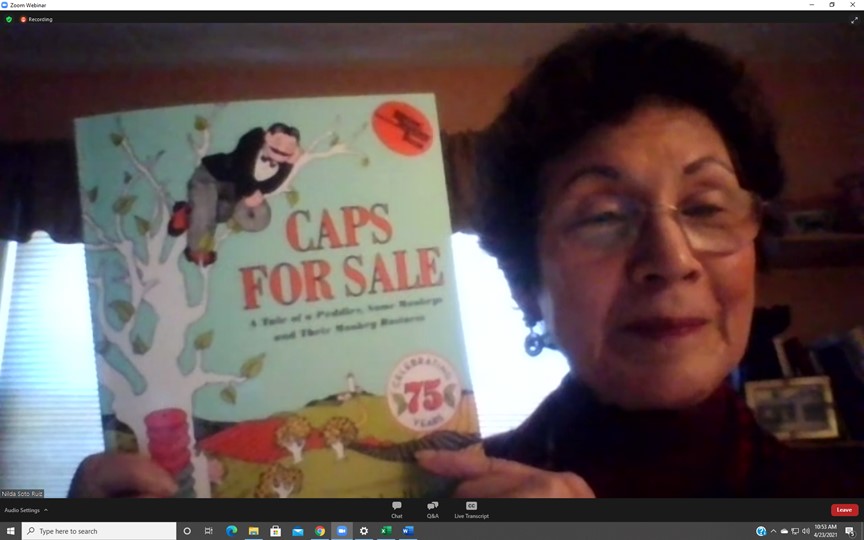 GSE professor and Chair of the School Leadership Master's Program, Dr. Nilda Soto Ruiz, read from Caps for Sale during the GSE Read Aloud Marathon held in honor of World Book Day on April 23.
Touro's Graduate School of Education (GSE) held its first ever book-reading marathon in honor of World Book Day. Administrators, faculty members, and students took turns reading more than two-dozen books in an interactive virtual series that began on World Book Day on April 22 and continued after a break on April 23.
Designated by UNESCO in 1995 as a worldwide celebration of books and reading, World Book Day is marked in over 100 countries around the globe to promote reading.
"There's something magical about books," said Graduate School of Education dean, Dr. Jacob Easley II, as he officially opened Touro's World Book Day read-alouds. "They let you have insights into worlds that aren't your own and help us understand ourselves a bit better as well."
In addition to the 31 readings, GSE organized a book drive and delivered more than 150 books to Bethany House and Regent Family Residence to fill their libraries.
"As part of our new early literacy initiative, Bethany House is building libraries in two of our residences," said Bethany House administrator Merril Rosenberg. "The generous donation of the Touro College Graduate School of Education will help us to provide diverse, age-appropriate reading material for all of our young residents."
The reading marathon jumped between older classics like Ezra Jack Keats' Goggles and Shel Silverstein's The Giving Tree, and soon-to-be classics like Hair Love by former NFL receiver Mathew A. Cherry and La Cazuela That The Farm Maiden Stirred by Samantha Vamos. GSE's very own authors, Timothy Bellavia and Joanne Robertson-Eletto, read from their own books, respectively We Are All the Same Inside and The Littlest Coo Discovers His Gifts.
During breaks between readings, participants spoke about the relationships they had with their favorite books and how those books influenced them. Touro Vice President Nadja Graff read from The Hundred Dresses, a book she read to her children and grandchildren. "This is a book that talks about being different—something that we've all experienced," explained Dr. Graff. "Ultimately, the book is about kindness and generosity of spirit as well as standing up and making your voice heard when you see anything unkind or hurtful."
Several books were read bilingually in English and a second language. Second languages included German, Hebrew, Russian, Yiddish and Spanish.
Dr. Edmund Melville, GSE's Director of Teacher Residency, spoke about the importance of representation of African American children in books like Hair Love as well as the book's focus on a father-daughter pair. "A lot of times we are not able to see ourselves in books that we might want to read," said Dr. Melville. "My daughter doesn't look like the princesses in the fairy tales we read. Hair Love is an important book because my daughter and I are able to see ourselves. It's not a story that's often told."
The final reader was Velma Cobb, director of GSE's Lander Center for Educational Research, who finished the event on an uplifting note, reading a poem by the US's youngest poet laureate Amanda Gorman. "We've read so many different books and experienced so many different cultures and perspectives," concluded Dr. Cobb. "This has been a wonderful time and I invite you to the wonder of words. Words allow us to express our feelings and understand each other in a variety of ways. Books open the world to us so we can learn from one another."
"Reading empowers children to become active citizens in our society and puts them on a path towards lifelong learning," said Graduate School of Education dean, Dr. Jacob Easley II. "At Touro, we are committed to educating children with high-quality reading instruction to help develop their reading skills for world exploration."
GSE's reading marathon was sponsored by The Book Fairies and iHeart Radio.