Touro College Graduate School of Education Awarded Seven Year Accreditation
Certified Program Include Six Masters of Science Degrees
December 06, 2013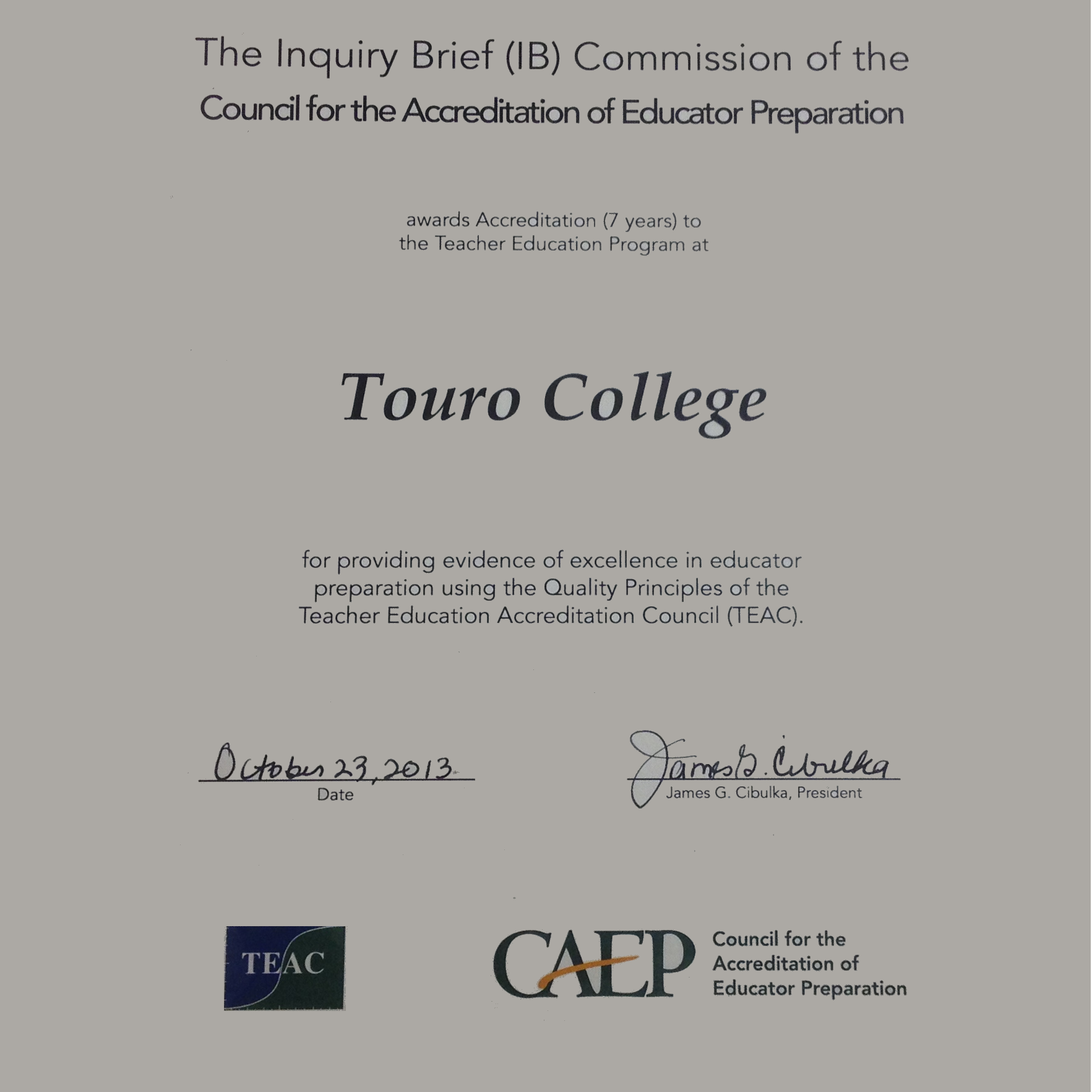 New York, N.Y. – Touro College President and CEO Dr. Alan Kadish today announced that the programs in Teacher Education and School Leadership at the Graduate School of Education (GSE) at Touro College have been awarded full accreditation for seven years by the Inquiry Brief Commission of the Council for the Accreditation of Educator Preparation (CAEP). CAEP is one of two agencies that merged earlier this year to create a new agency that will be the single specialized accreditor for educator preparation in the United States.
Accreditation to the School's educational leadership and teacher education programs encompasses the six Master of Science degree programs offered by the GSE – in education and special education, instructional technology, mathematics education, school leadership, teaching English to speakers of other languages (TESOL) and teaching literacy.
"Attaining this significant accreditation requires a rigorous and exhaustive review. The results represent an exemplary achievement for the administration, faculty, staff, and students of the Graduate School of Education," said Dr. Kadish. "We congratulate Dean LaMar Miller, Ph.D., who led the School through the challenging accreditation process and continues to provide leadership for one of the largest schools of education in New York state."
Said Dean Miller, "We are extremely pleased to be receiving this accreditation, which is a tribute to everyone in our community. As we celebrate our 20th anniversary, we are proud of our diverse student body, our commitment to high quality education, the personal attention afforded our students, and the innovative teachers, administrators and educational leaders we graduate every year – especially those serving high-need and diverse student bodies throughout the city and the state of New York."
Established in 1993, the School currently enrolls approximately 3,260 students, most of whom are in the M.S. programs in Education and Special Education. About 76 full-time, 11 part-time and over 103 adjunct faculty teach at the School, which offers classes in Manhattan, Brooklyn, Queens, and Bay Shore, Long Island – as well as online.
The School is the largest provider of new special education teachers to the city's public schools, and one of the largest providers of teachers to "high need schools" – those that face special challenges in helping students succeed. The School has also been ranked first in New York state for graduating minority students with master's degrees in education, and among the top ten universities for graduating minorities nationally in four categories, by the magazine Diverse Issues in Higher Education.
In addition to its degree programs, the School operates the Lander Center for Educational Research. The Center was founded in 2005 with the goal of coordinating pre-K to graduate level education efforts to promote and support research, policy, and practice for effective leadership, skilled teaching, and equitable opportunities for learning. Currently, the Lander Center houses the federally funded Region II Equity Assistance Center (EAC), which provides technical and professional development assistance to schools and districts in New York, New Jersey, Puerto Rico, and the Virgin Islands.