Unlocking The Keys To Learning
Lander Center for Educational Research Idea Exchange Helps Teachers Understand Learning
July 13, 2015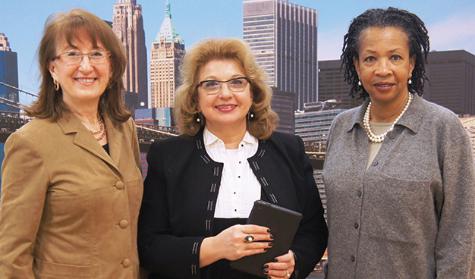 Every day, students of all ages in schools across the country are tasked with learning and mastering knowledge, procedures, facts and skills. But how, exactly, does this take place? Recently, Touro faculty members had a chance to deepen their understanding of the learning process while attending a Lander Center Idea Exchange, "Attention and Memory."
Under the facilitation of Lander Center Director Dr. Marcella Bullmaster-Day, slips of paper were handed out to participants, each printed with a concept such as "my phone number," "names of my family members,""elements of the Periodic Table," "words to my favorite song, "classification system of biology," "where I was on September 11, " and " the 10 Amendments to the Bill of Rights." Participants were asked to order these by how easy they were to remember.
Almost without exception, participants identified names of family members, phone numbers, and what they were doing on September 11th as easier to recall, while classifications in biology and the Bill of Rights Amendments were considered difficult. This simple exercise revealed to participants key aspects of learning and memory.
Explains Professor Bullmaster-Day, "Concepts that someone can relate to on a personal level, such as family names, or those that are vivid and emotionally arousing such as 9/11, or those that are often repeated, like phone numbers, are retained. So teachers need strategies to help students make a personal connection to academic concepts, –like the Bill of Rights Amendments, the Periodic Table, or biology classifications, – if we want students to recall them."
As today's global economy evolves ever more swiftly, K-12 students must be prepared to manage the high-level intellectual demands of college coursework and the competitive challenges of the increasingly complex 21st century workplace. Recognizing this need, U.S. policymakers and educators have raised the goals for K-12 schooling. Closer to home, the Touro College Graduate School of Education's Lander Center for Educational Research is responding to this need through a range of programs that initiate, promote and support research, policy and practice to help educators identify ways to instruct students from diverse settings, particularly underserved populations.
Bullmaster-Day has devoted her career to the questions, patterns and connections that make up the building blocks of learning. "I want to know, what are the pieces? How do they work together? How are quality learning experiences designed?" she says. During her various roles teaching, developing curricula and serving as an educational administrator and researcher, which have included decades of work with underserved populations in South Central Los Angeles, Newark, New Jersey and Harlem, she has always focused on how learning happens, putting insights into practice in the classroom and in the training of educators.
"A great benefit of my job at Touro is interacting with my co-workers and the collaborations that occur daily," she says, explaining that work at the Center currently focuses on several areas. In terms of research, several projects are taking shape, including a study of co-teaching practices in a Harlem middle school and a survey project about what people remember most vividly from their elementary schooling.
A significant effort based in the Lander Center is the federally-funded Region II Equity Assistance Center (EAC), directed by Dr. Velma L. Cobb, which serves New York, New Jersey, Puerto Rico and the Virgin Islands. The EAC provides services, upon request and at no cost, to states and school districts to effectively address equity issues of race, sex and national origin affecting student achievement and opportunity. Through Lander's educator training sessions and specially created instructional materials, the Center helps educators develop ways to promote learning for students with limited proficiency in English, and teaches how bias can influence instruction and student evaluation. The Lander Center also trains educators on ways to help schools reduce harassment, bullying and prejudice.
The Lander Center also houses the Touro Teacher Residency Program, directed by Dr. Elina Lampert-Shepel, which offers a master's degree in Childhood Education/Special Education (Grades 1-6) in conjunction with two partner charter school networks. This program allows full-time teachers to pursue degrees while utilizing their in-classroom experiences as part of their curriculum. In addition, the Lander Center offers professional development services to pre-K – 12 school teachers and leaders to strengthen learning strategies to meet more rigorous state standards and strategies to promote social/emotional learning and positive school climate. Another aspect of the Lander Center's work is the Faculty Resource and Development Program (FRDP), which hosts Touro faculty dialogues about learning and teaching in the form of Idea Exchange meetings and panel discussions. "The ultimate goal of our team's work is to make a difference in the lives of students, educators and communities," reflects Dr. Bullmaster-Day. "It's exciting to come to work knowing that what we accomplish today may have far-reaching positive impacts on individuals for years to come."
This article appeared in the Spring 2015 edition of Touro Links